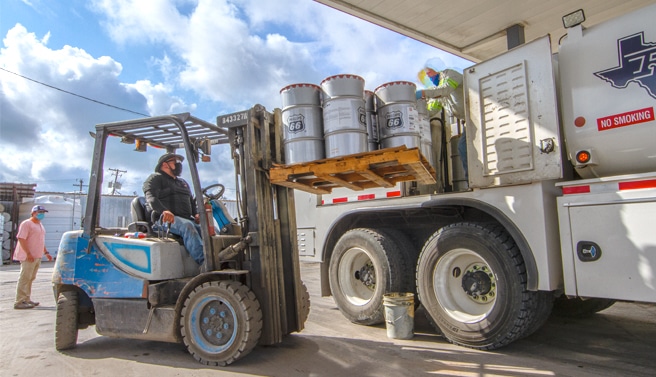 FUEL SERVICES
We're a one-stop-shop for all your commercial fuel and lubricant needs.
Our customer-focused culture is supported by our industry knowledge and extensive resources to provide you with the flexibility and value you need to succeed as a business. Our sales team will work one-on-one with you to formulate the best solutions to your fueling and lubricant needs.
CONTACT US
Tex-Con provides a variety of fuel services for our customers, including:
Bulk Tank Fueling
Jobsite Fueling
Fleet Fueling
Generator Fueling
Inventory Management System (Tank Monitoring)
Take Off Capacity
Tex-Con supplies diesel fuel and gasoline to a variety of business sectors including but not limited to:
Construction
Cement
Mining
School Districts
Farming
Trucking
Emergency Generators
Bulk Plants
Our four strategically located bulk plants give customers access to fuels and lubricants at the pump for convenience and immediate needs. If you don't have fuel tanks onsite or can't wait for a delivery, we're here to get you what you need. Each location has highly experienced teams that can quickly resolve any issues or problems relating to your fuel or lubricants. If they can't resolve your issue, they know who to get you in touch with.
We operate four bulk fuel plants throughout Central Texas (South Austin, North-East Austin, Pflugerville, and San Antonio) with a total fuel capacity of 209,000 gallons containing:
01/

# 2 Off Road Dyed Diesel

02/

# 2 On Road Clear Diesel

03/

Regular Unleaded Gasoline

04/

K-1 Clear Kerosene

05/

Diesel Exhaust Fuel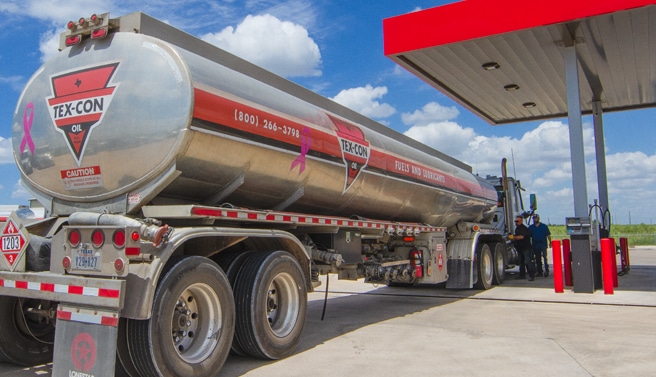 Fleet Fueling
Tex Con also offers Fleet Fueling. Our Fleet Fueling service will fill up individual vehicles while they're parked or not being operating. This allows you to be more effective and operate more efficiently, saving costly time traveling to get fuel. Our fleet fuel trucks are specially designed for fleet fueling and are capable of carrying clear diesel, dyed diesel, unleaded fuels, and DEF.
SCHEDULE NOW